Text block
Help Boost
 

Male Hormones

 

To

 

Increase Muscularity

 And Definition
NSP's T-Boost Pro - Testosterone Support may help you to:
Boost your body's hormone levels to

 

accelerate your body transformation plan
Improve your overall

 

well-being
Help deliver results

 

without the use of synthetic ingredients or medications
Help

 

increase your energy levels
Regular price
$55.00
Sale price
$49.49
Unit price
per
Sale
Sold out
Share
Disclaimer

CAUTION: Do not exceed the daily recommended allowance of Zinc or any product that contains Zinc.

When combining products like Alpha Male and T-Boost Pro it is possible to get more than the daily recommended allowance of Zinc, which is 50mgs/day.

Exceeding this allowance regularly can lead to Zinc imbalance. If you do exceed the daily recommended allowance regularly it may be recommended to supplement with Copper to potentially avoid Zinc a possible imbalance.

Consult your physician for more information.
View full details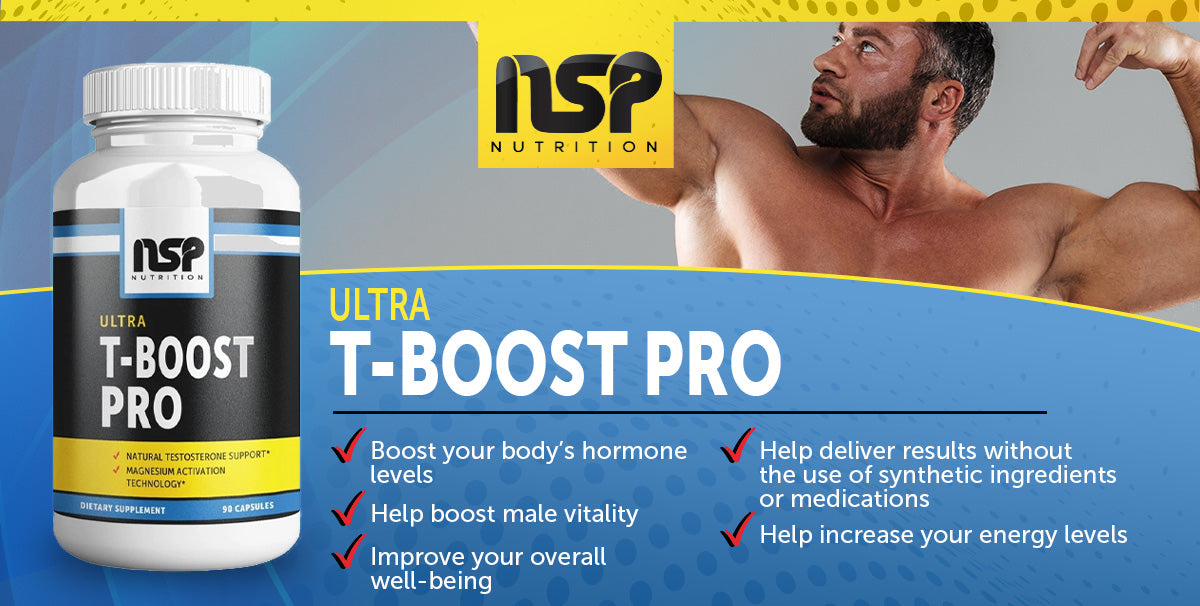 The Perfect Accompaniment To Your Gains Goal!
Achieve Quicker Gains, Boost Positivity, And Feel More Energized!
T-Boost Pro contains all-natural vitamin extracts that provide the body with doses of zinc and magnesium.

This supplement also contains tribulus terrestris to help increase testosterone levels in men.

It has been used for years to help boost male vitality and overall well-being.

This testosterone support supplement supports the body's natural production of testosterone to help deliver results without the use of synthetic ingredients or medications.
Together, these ingredients work synergistically to support testosterone production in the body. Many men have had great success with T-Boost Pro. However, to avoid side effects and ensure proper results, it is crucial to follow directions correctly when taking this supplement daily.
Collapsible content
NSP's T-Boost Pro - Testosterone Support may help you to:

- Boost the body's testosterone to increase positive body-building results

- Help boost male vitality

- Improve overall well-being

- Help deliver results without the use of synthetic ingredients or medications

- Help increase your energy levels
Serving Size

Take 3 x capsules at bedtime*

*Do not exceed recommended dose