Text block
Stay Strong As You Get Older By Keeping Your Joints 

Healthy

 And 
Pain-Free

 So You Don't Have To Take Time Off Training
Joint Relief Pro - Joint Formula For Men may help you: 
Reduce the risk of osteoarthritis so you can continue lifting weights long after other guys your age have been forced to quit
Defeat the effects of aging by keeping your joints mobile so you can move pain-free by using the Joint Relief Pro - Joint Formula For Men
Safely build and sculpt your physique as you get older so you'll always feel young, strong, and attractive
Regular price
$41.80
Sale price
$37.39
Unit price
per
Sale
Sold out
Share
View full details
No Longer Be A Victim of Aging!
As you get older, it's inevitable that your joints will begin to deteriorate. 
As the connective tissue in your joints begins to wear away...
Pain-free and unrestricted movement soon feel like a thing of the past...
And simple daily activities such as bending down to put your shoes on...
Walking up a flight of stairs...
Or reaching for something don't the top shelf...
NSP Nutrition has identified these nutrients and packed them all into a single formula.
So if you're unable to move like you once used to...
And are incapable of training in a way that keeps your muscles big, strong, and defined...
Then check out Joint Relief Pro.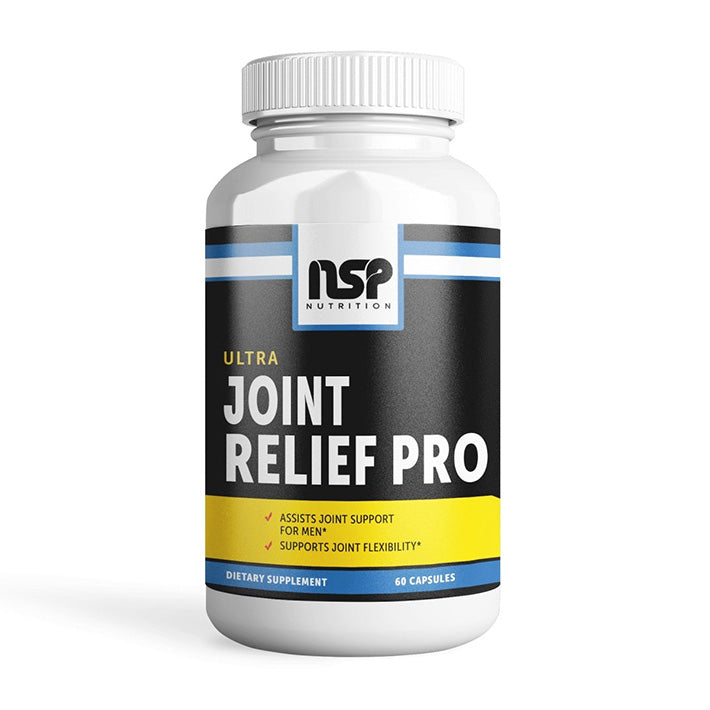 Introducing... Joint Relief Pro
Joint Relief Pro is a blend of natural ingredients to assist with joint support and flexibility.
It contains:
Glucosamine:

Helps keep your joint cartilage healthy
Chondroitin:

May improve joint mobility, flexibility, and reduce the risk of osteoarthritis 
Boswellia Extract:

Powerful anti-inflammatory compound to help reduce joint pain 
Quercetin:

Demonstrated in some studies to help reduce arthritis 
Bromelain:

Potent anti-inflammatory that can assist with pain relief
Collapsible content
NSP's Joint Relief Pro may help you to: 

- Reduce the risk of osteoarthritis so you can continue lifting weights long after other guys your age have been forced to quit

- Defeat the effects of aging by keeping your joints mobile so you can move pain-free

- Safely build and sculpt your physique as you get older so you'll always feel young, strong, and attractive
Serving Size

Take 3 capsules a day before a meal*

*Do not exceed recommended dose