Regular price
Sale price
£33.00
Unit price
per
Sale
Sold out
Key Benefits:
Joint Support: Intensive workouts can take a toll on your joints. Collagen, a primary component of tendons and ligaments, helps maintain joint health, reducing the risk of injuries during your gym sessions.

Muscle Recovery: Post-workout recovery is crucial for muscle growth. Collagen provides the building blocks necessary for muscle repair and regeneration, helping you bounce back quicker and stronger after each workout.

Skin Health: Maintain a healthy, vibrant complexion even after strenuous workouts. 

Hair and Nails: Strengthen your hair and nails from the inside out. 

Immune Boost: Vitamin C, a crucial ingredient in these gummies, enhances your immune system, helping your body stay resilient against infections.
Why Choose NSP's Collagen and Vitamin C Strawberry Gummies?
Made in the USA: Trust in our commitment to quality and safety with a product proudly manufactured in the United States.

Delicious and Convenient: Enjoy the delightful strawberry flavor of our gummies as a tasty treat that also supports your fitness journey.

High-Quality Ingredients: We prioritize quality and safety, ensuring that our gummies are made with pure and potent ingredients.

On-the-Go Wellness: Whether you're hitting the gym or on the move, these gummies are a convenient way to give your body the nutrients it needs.
Elevate your gym game and support your overall well-being with NSP's Collagen and Vitamin C Strawberry Gummies. Experience the benefits of joint support, enhanced muscle recovery, and a radiant appearance as you work towards your fitness goals. Order now and make these delicious gummies a part of your daily fitness routine!
Share
Disclaimer

*These statements have not been evaluated by the Food and Drug Administration. This product is not intended to diagnose, treat, cure, or prevent any disease.**Formulas are subject to change.*Do not use if pregnant or nursing*
Caution

CAUTION:

Do not exceed recommended dose.

Pregnant or nursing mothers, children under the age of 18, and individuals with a known medical condition should consult a physician before using this or any dietary supplement.
Servings

As a dietary supplement, take two (2) Gummies once a day.

Serving size: 2 pieces
Serving per container: 30
View full details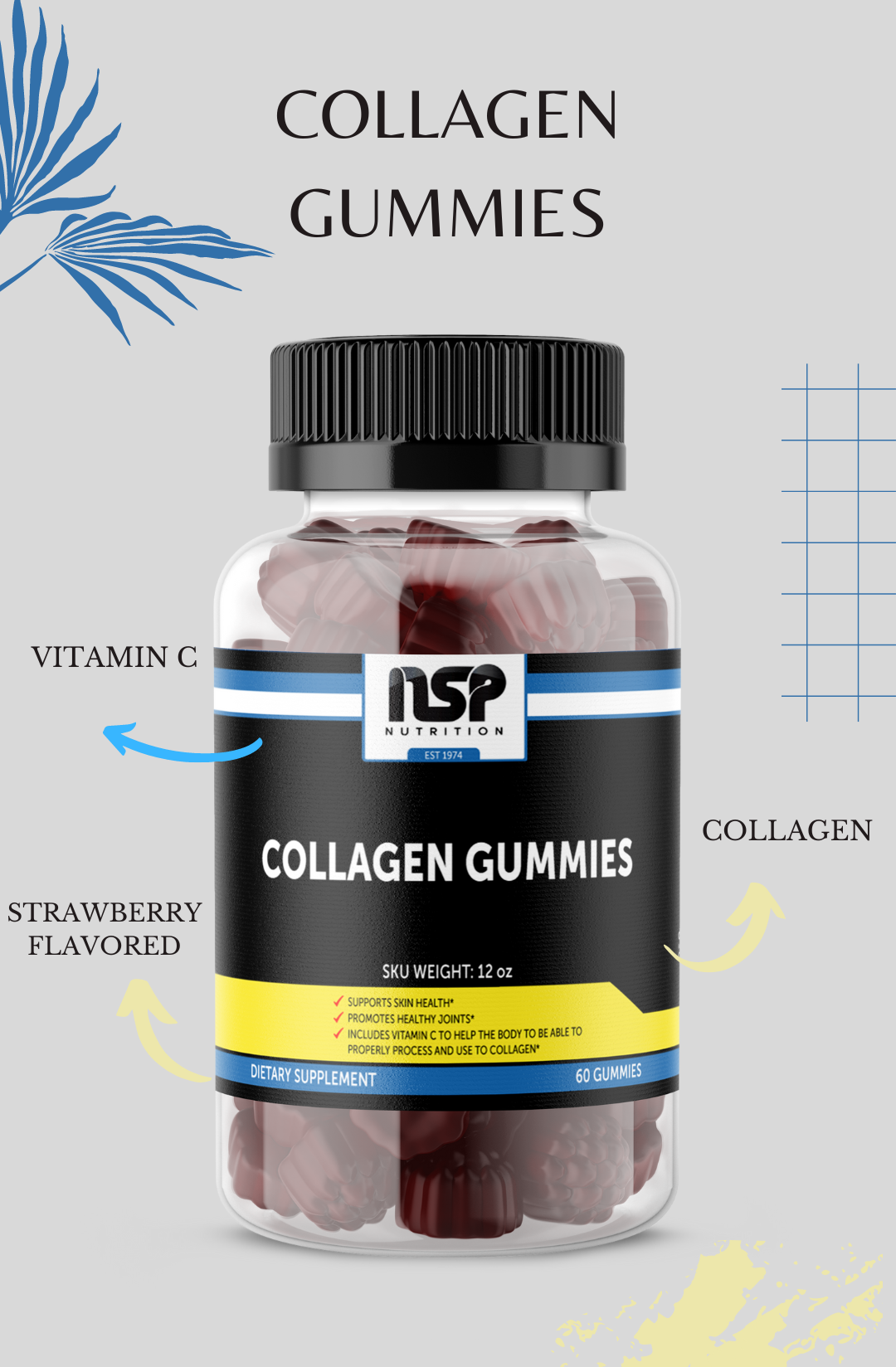 Collagen Gummies is composed of:
-No artificial flavors or sweeteners
-No gluten or dairy
-No high fructose corn syrup
-No synthetic FD&C dyes