NSP REWARDS
Join the program and earn points with every purchase.
HOW IT WORKS:
STEP 1: SIGN UP

Receive 50 points upon signing up and an additional 100 points on your birthday!

STEP 2: EARN POINTS

Accumulate points with each purchase and earn bonus points for liking, sharing, and reviewing.

STEP 3: REDEEM POINTS

Utilize your points during checkout, and earn extra ones when you refer a friend!
WAYS TO EARN:
Create an account 👤

Earn 50 points just from signing up!

Make a purchase 💰

Earn 1 point for every dollar spent.

Birthday 🎂

Oh, it's your birthday? Here's 100 points on us!

Refer a friend 🙏

Get a whopping 750 points when you refer a friend!

Leave a review ⭐

Let us know what you think of our products and we'll award you 50 points!
REWARDS:
🎁 $5 = 125 Points
🎁$10 = 250 Points
🎁$20 = 500 Points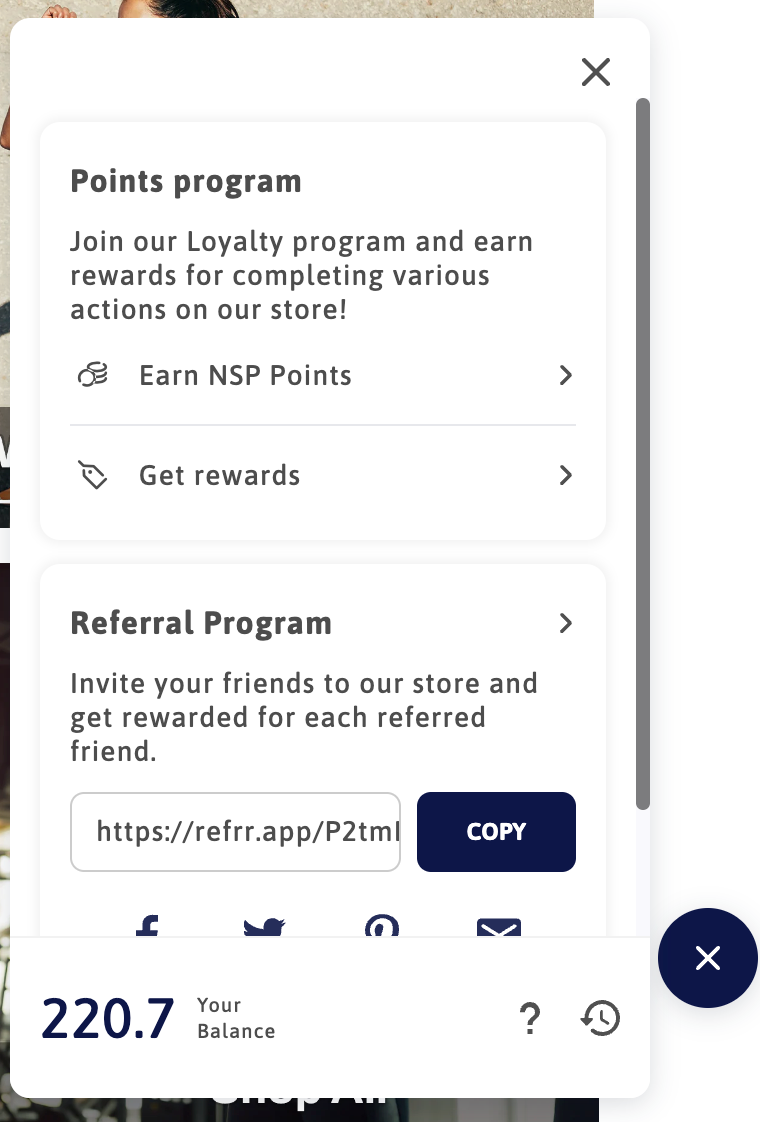 How Do I Redeem Points?
Simply click on the "Rewards" icon on the bottom left of your screen. You will see options to Refer a Friend, earn NSP Points, or Get Rewards. Click on the Get Rewards section and choose between Cash Reward or Gift card and click redeem. The Cash Reward will be added directly to your cart or you can copy and paste the gift card number.
Frequently Asked Questions
What is the rewards program?

We express our gratitude through this program, where you can accumulate points for various actions like referrals and purchases. Accumulate more points to use towards your future purchases.
Who can join?

Customers who have an account are enrolled automatically.
How are points earned?

You can accumulate points through purchases and a variety of activities, such as referrals. Scroll up to discover how you can earn your points!
Where are my points?

You can view your points by clicking on the "Rewards" button at the bottom right of the page. But you must be signed into your NSP account.
How do I use my points?

In order to redeem the points you've gathered for rewards, it's crucial to make sure you're logged into your NSP customer account. You will need to select the "Rewards" button on the bottom right of the page and select "Get rewards."
Is there a maximum amount of points you can earn?

There are no restrictions on the total points you can earn. Nevertheless, when composing Product Reviews, there is a maximum limit of 500 points per order.
What do the approved, pending, and cancelled statuses mean?

Approved: You can redeem these points for rewards right away.

Pending: These points require verification before you can use them, usually for purchases and referrals.

Cancelled: These points will not be credited to your account, such as when you cancel a purchase (points in the 'pending' status will change to 'cancelled').
Why did my account balance go down?

You, or a person you referred, have canceled or returned a purchase.
What happens if a friend I refer returns or cancels their order?

Pending points will be canceled and deducted from your account.
How do I get my points for writing a review?

Following your purchase, you'll receive an email inviting you to 'leave a review' and share your thoughts about your recent purchase. By doing so, you can earn reward points. Kindly be aware that reviewing products directly on our website will not earn you reward points. Your feedback is greatly valued!
Why didn't I earn points for my activity?

The processing of the activity and the allocation of points may require a few minutes.
How do I use my points during checkout?

When you begin the checkout process, your points balance will be visible beneath the items in your cart. You can use the slider to choose the number of points you wish to redeem, with a maximum of $40 redeemable per transaction.
How do I leave the loyalty program?
What happens if I leave then join again?

If you wish to re-enroll, please get in touch with us. Please be aware that your point balance will reset to zero upon re-enrollment.
Where can I report a problem or give feedback?
Do points expire?

Reward points will have a 12-month expiration period from the date of their issuance.