Regular price
Sale price
$28.00
Unit price
per
Sale
Sold out
Share
Are you committed to your fitness and workout regimen? NSP's Cod Liver Oil Supplement is here to support your active lifestyle while simultaneously maintaining your bone strength and joint elasticity.  
Key Benefits for Fitness Enthusiasts:
Joint Health: Physical activity can put stress on your joints. Cod Liver Oil is a natural source of omega-3 fatty acids, which have anti-inflammatory properties that can help reduce joint discomfort, allowing you to keep pushing yourself during workouts.

Muscle Recovery: Intense workouts can lead to muscle soreness. The omega-3s in Cod Liver Oil may assist in reducing muscle inflammation, aiding in quicker recovery so you can get back to your fitness routine with less downtime.

Heart Health: Cardiovascular health is vital for endurance. Cod Liver Oil supports heart health by helping to regulate blood pressure and maintain healthy cholesterol levels, improving your overall fitness capacity.

Bone Strength: Strong bones are essential for overall fitness and to prevent injuries. Cod Liver Oil is a natural source of vitamin D and calcium, crucial for bone health and muscle function.

Mood and Motivation: Staying motivated is key to fitness success. Omega-3s in Cod Liver Oil may positively affect mood and cognitive function, helping you stay focused and motivated in your workouts.
Why Choose NSP's Cod Liver Oil?
High-Quality Sourcing: We prioritize quality and safety, sourcing our Cod Liver Oil responsibly and ensuring it's free of contaminants.

Pure and Potent: Our supplement is rigorously tested to guarantee purity and potency, so you can trust that you're getting the best for your fitness journey.

Natural Wellness: NSP's Cod Liver Oil harnesses the natural benefits of this nutrient-rich oil to support your fitness goals.
Elevate your fitness journey and enhance your well-being with NSP's Cod Liver Oil Supplement. Support joint health, muscle recovery, cardiovascular fitness, and overall vitality. Order now and take a proactive step toward reaching your fitness goals!
Disclaimer

*These statements have not been evaluated by the Food and Drug Administration. This product is not intended to diagnose, treat, cure, or prevent any disease.**Formulas are subject to change.*Do not use if pregnant or nursing*
Shipping & Returns

(updated Jan 2023)


Interpretation and Definitions

Interpretation

The words of which the initial letter is capitalized have meanings defined under the following conditions. The following definitions shall have the same meaning regardless of whether they appear in singular or in plural.

Definitions

For the purposes of this Disclaimer:

"

Company

" (referred to as either "the Company", "We", "Us" or "Our" in this Disclaimer) refers to NSP Nutrition LLC

"

Goods

" refers to the items offered for sale on the Service.

"

Orders

" means a request by You to purchase Goods from Us.

"

Service

" refers to the Website.

"

Website" refers to NSP Nutrition website, accessible from

 

https://www.nspnutrition.com

"

You

" means the individual accessing the Service, or the company, or other legal entity on behalf of which such individual is accessing or using the Service, as applicable.

Domestic Shipping Policy

Shipment processing times

All orders are processed within 2-3 business days. Orders are not shipped or delivered on weekends or holidays. Orders made past 2:00 pm CST on a Friday will be processed on the next business day.

*Business day does not include weekends (Saturday and Sunday, holidays and past 2:00 pm CST on a business day)

If we are experiencing a high volume of Orders, shipments may be delayed by a few days. Please allow additional days in transit for delivery. If there will be a significant delay in shipment of Your Order, We will contact You via email.

Items that are on pre-order will be shipped as soon as they become available on the announced date on our Website's product page.

Shipping rates & delivery estimates

Shipping charges for Your Orders will be calculated and displayed at checkout.

We ship to all 50 states, Canada, and Europe. Overseas shipping currently has increased shipping charges. We also ship overseas to all APO/FPO military addresses.

Books created by NSP Nutrition and Vince Gironda ship from our warehouse. Our affiliated books will have a 2-3 processing time before being shipped via FedEx. (For Digital books, a downloadable copy will be sent thru a link via email to the customer's email address once the order is confirmed & verified)

We ship primarily with UPS when possible.
We ship Monday through Saturday, 9am-6pm CST, excluding holidays.
UPS deliveries occur Monday-Friday and USPS deliveries occur Monday-Saturday, excluding holidays.
Be aware that UPS will NOT deliver to PO Boxes.
Orders are shipped as quickly as possible, and in most cases, go out within 2-3 business days after the order is placed.
International shipping cost does not include import fees, customs, duties or value added taxes (VAT). All prices listed are in USD.
Majority of orders are shipped from our warehouses in Tennessee and Wisconsin.

*Pre-ordered products will be shipped stated on the product page, unless there is a change of date due to unforeseen circumstances.

*All apparels are print-by-demand products and depending on the volume of the order, it may take 2-8 days production time. Average production time is 4 to 7 business day before it will be shipped.

Free shipping on orders above $150 for USA shipping address.

If you have any questions or concern about our shipping policy, please contact support@nspnutrition.com or you can use our contact us page and drop us a message. 

Customs, Duties and Taxes

NSP Nutrition LLC is not responsible for any customs and taxes applied to Your Order. All fees imposed during or after shipping are the responsibility of the customer (tariffs, taxes)

Damages and Lost in Transit

NSP Nutrition LLC is not liable for any products damaged or lost in transit. If you received Your Order damaged (exterior), please contact the shipment carrier to file a claim.

Please save all packaging materials and damaged goods before filing a claim. If Your package is delivered to a wrong address, please contact the shipping carrier to file a complaint. Tracking information of the shipping address is available on the shipping carrier's website. We will send all shipping information and tracking numbers via email once Your Order has been shipped. Please note that We can only make a claim for canceled shipments by the shipping carrier and are not authorized to file a claim marked as delivered on the shipping carrier's website.

Package was returned to our warehouse

NSP Nutrition provides all accurate information to the shipping carrier that you chose at checkout. In the event that Your package was returned to our warehouse due to wrong address, inaccurate information provided during checkout and failure to comply with customs requirements, duties and taxes (for international orders), You will be responsible for paying additional shipping fee to reship Your Order. For refund request, You will be responsible for the restocking fee of 10% of the Item's sold value (discounts applied) and shipping fee which will be deducted to the total amount that you paid.

Missing or incomplete orders

NSP Nutrition holds several warehouses which results in possible splitting of shipments. Several factors like packaging and weight may also result in splitting of Your Order. If you were not able to receive your complete order, please check your email for the other tracking number. In the event that it is more than 10 days and you still have not received your complete Order, please contact us so we can assist you. 

For missing products, we are requiring a photo of packaging label/slip and a photo of the package with the products you received.
View full details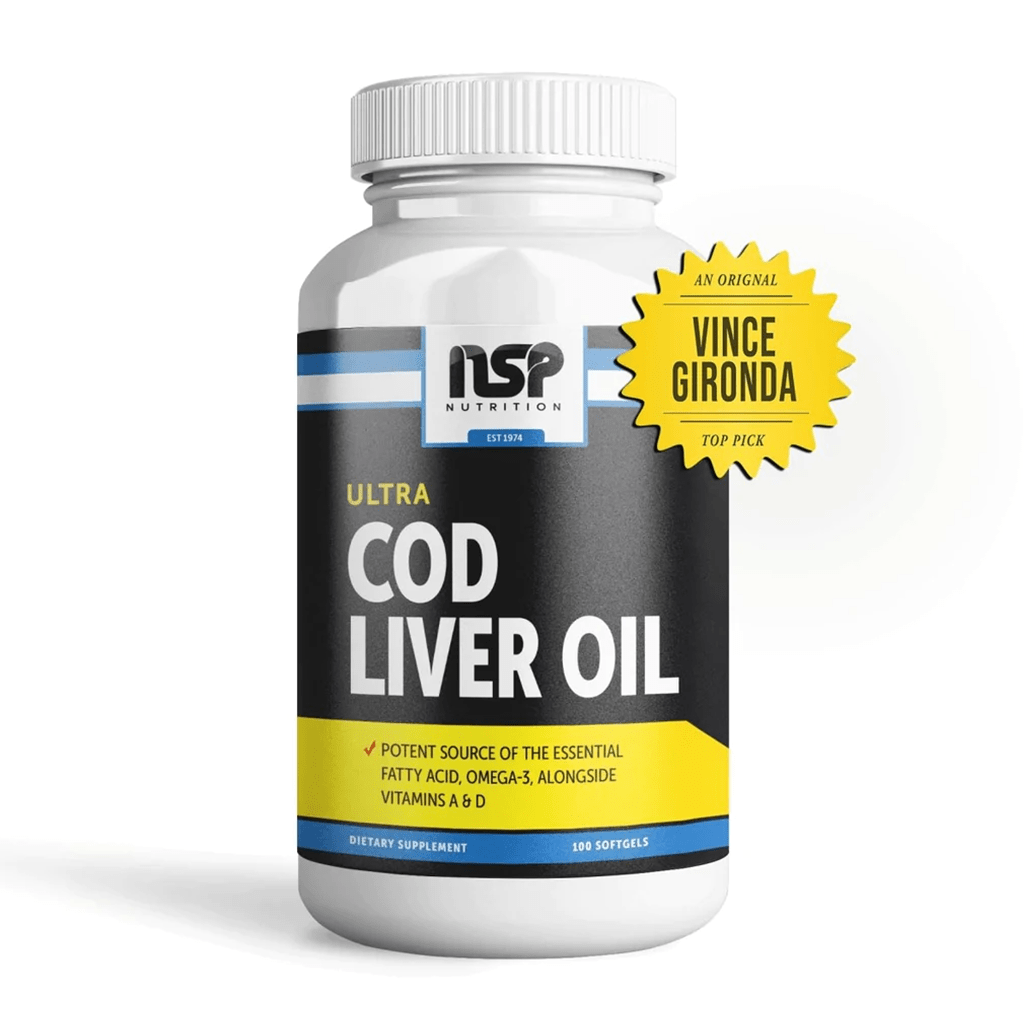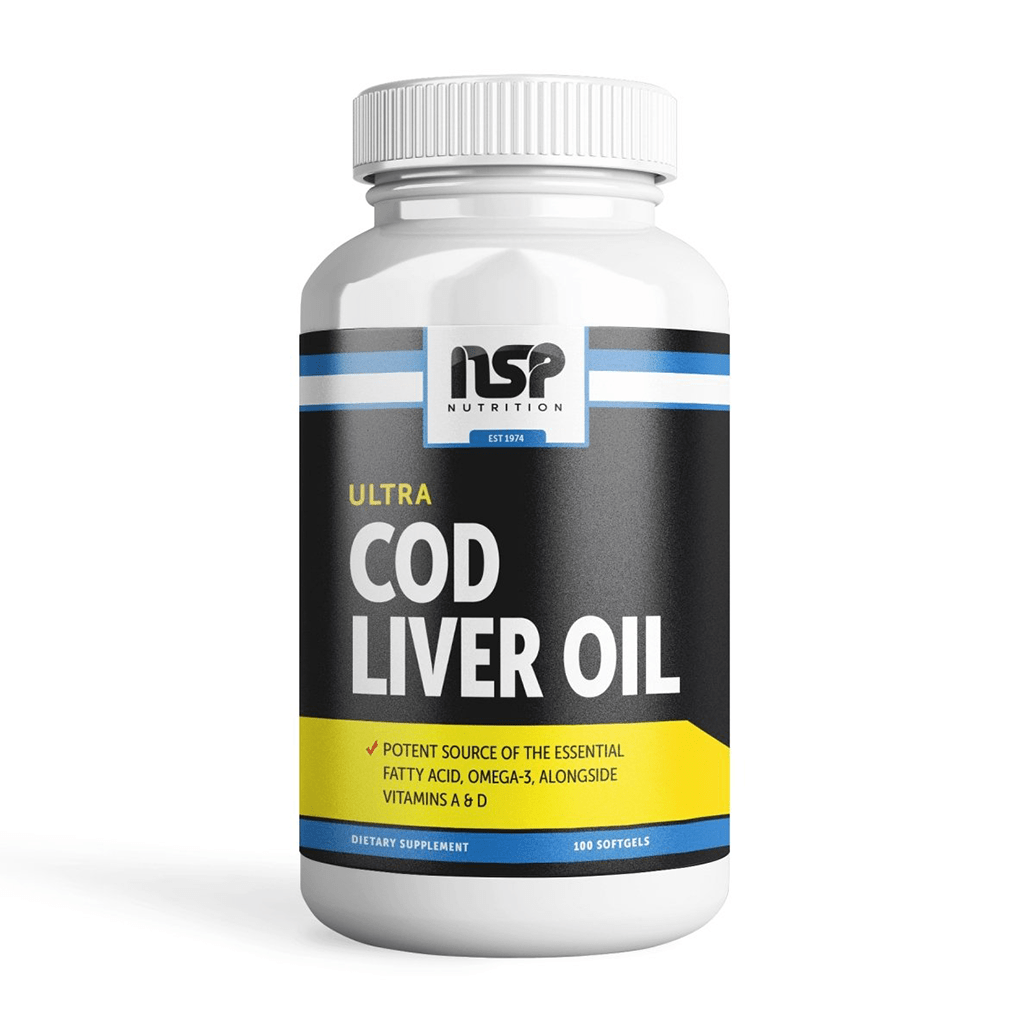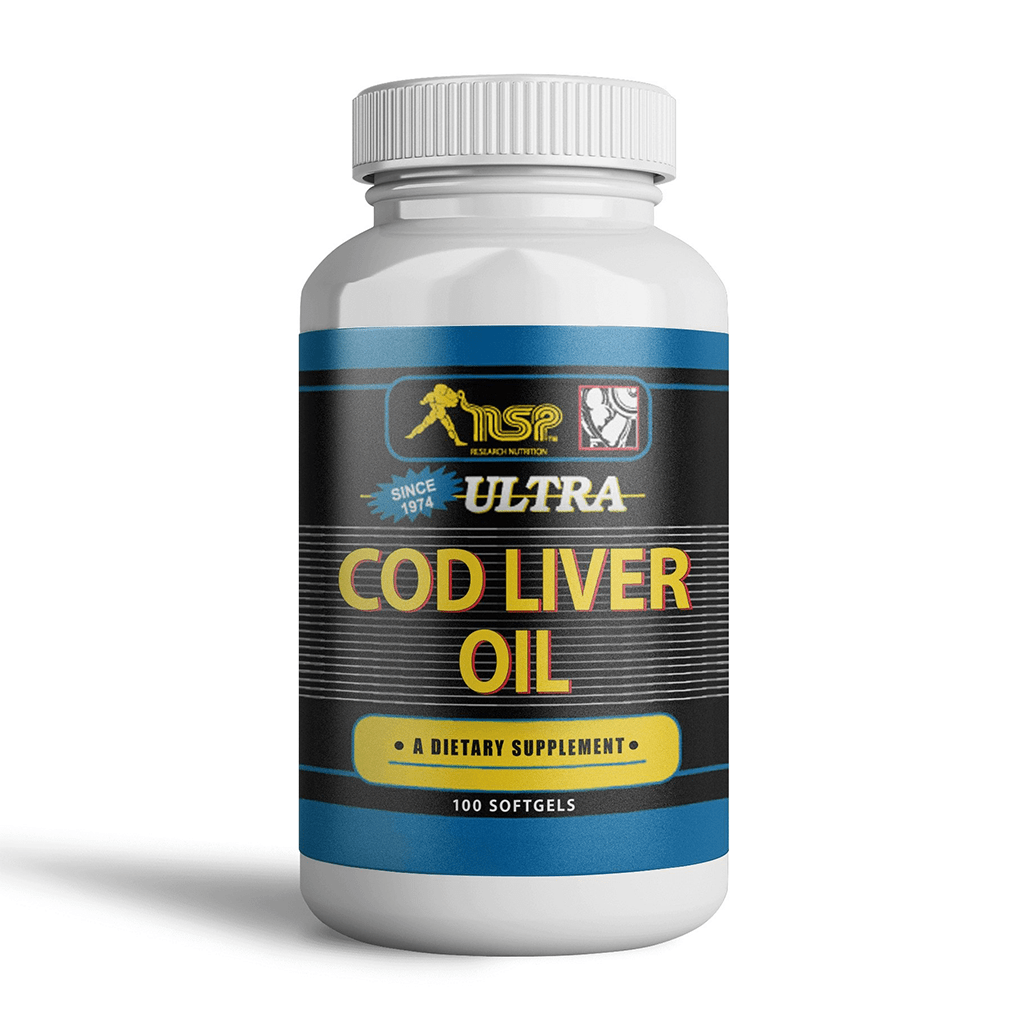 Cod liver oil is a potent source of the essential fatty acid, omega-3, alongside vitamins A and D.
Vitamin A

Vitamin A is a fat-soluble vitamin, meaning it requires fat for transportation around the body. 

Therefore, bodybuilders and fitness enthusiasts on a low-fat diet may find themselves deficient in this particular nutrient. 

As well as helping to enhance immune function, and bone growth, vitamin A may also help enhance muscle growth by aiding testosterone production and protein synthesis
Vitamin D

Vitamin D deficiency is the most common nutrient deficiency across the world, and can lead to a myriad of health disorders, such as: - 

Muscle weakness

Bone loss

Depression

Weakened immune function

Fatigue

Vitamin D can directly help improve body composition by helping to optimize testosterone level and insulin sensitivity. 

Furthermore, its crucial role in immune function can help to accelerate recovery from training as well as build a tolerance to intense exercise
Omega-3

Omega-3 fatty acids are essential fatty acids, which the body cannot synthesize and therefore must be consumed in the diet. 

They play an important role in cardiovascular health by lowering triglyceride levels and blood pressure. 

In addition, they also display powerful anti-inflammatory effects and can have a very positive effect on mood. 

They are typically found in fatty fish, such as salmon and mackerel, as well as certain plant sources, including flax and walnuts. 

Sadly, omega-3s are not consumed as frequently as they once were, and in their place is an abundance of the 'omega-6' fatty acids, which are predominantly found in vegetable oils. 

Whilst omega-6 fatty acids are also classed as 'essential', an imbalance between them and omega-3s can create pro-flammatory conditions, which may harm your health, recovery, and body composition. 

Supplementing with omega-3 may help to overturn this, and create an environment more conducive to shaping your body. 

Research has revealed they may help you experience less muscle soreness and even increased muscle growth by promoting muscle protein synthesis. 

Furthermore, it can help to improve insulin sensitivity and blood sugar control, which can result in enhanced energy levels and accelerated fat loss